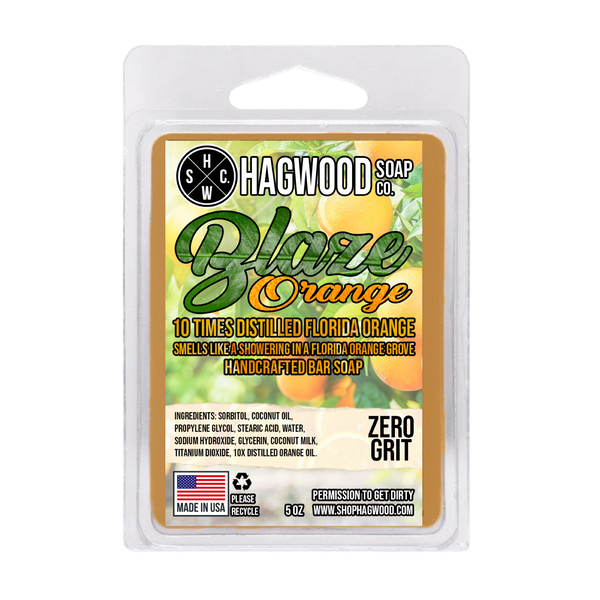 Hagwood Soap Co.'s Blaze Orange Soap is the perfect soap for people who want to smell like a combination of a hiking trail and a citrus grove. Made with 10x Orange Essential Oil, this soap packs a punch when it comes to scent. You'll be smelling like a freshly-peeled orange in no time!
Not only will this soap make you smell great, but it will also leave your skin feeling soft and moisturized. With nourishing ingredients like coconut oil and shea butter, your skin will be begging for more (but hopefully not in a creepy way).
So why not lather up with Blaze Orange Soap from Hagwood Soap Co. and start your day off right? You'll be smelling like a citrusy dream in no time! Just don't be surprised if people start following you around, trying to figure out where that amazing smell is coming from (hint: it's you).
*All soaps are individually Handcrafted, weighing approximately 5oz each and come in a 5oz, durable plastic container.
Ingredients: Sodium Cocoate, Propylene Glycol , Sodium Stearate, Glycerin, Cocos Nucifera (Coconut) Fruit Juice, Water, Sorbitol, Titanium Dioxide ,10x distilled orange extract.
Customer Reviews
07/03/2023
Joe T.

United States
Great Soap
This is my go to soap, awesome product and amazing scent!
07/23/2020
Shayden J.

US
Blaze Orange
Blaze Orange is a must have. The scent is a 10+. The clean you get is squeaky+. I dropped Squatch for Hagwood Soap Co. Blaze Orange is my absolute favorite. Keep us smelling good fellas. Thank you.
07/05/2020
Kenneth C.

US
I have not started to
I have not started to use the blaze orange yet. I started with the aloha and I really like it,and it has a pleasant smell and lathers up good.
07/04/2019
Michael L.

US
The Good Stuff!
Leaves my skin feeling fresh and smooth. The Orange peel smell is uplifting and wakes me up in the morning. Honestly, haven't tried a bar I haven't loved yet from Haywood! You won't be disappointed.
06/20/2019
Kj T.

US
Pretty good
I got the blaze orange and Even though it melted in the mailbox I was able to freeze it and use it. Came out the shower smelling like someone threw a basket of oranges at me 10/10